This special Chronicle collection includes our best advice guides and opinion pieces on online learning, to help faculty and staff members make the adjustment if that time comes. While it is targeting higher ed, much is adaptable to PK-12.
As the coronavirus spreads, colleges are scrambling to respond to potential health-care crises, campus closings, and other issues that are arising and evolving on a daily basis. A major challenge: How can institutions continue to offer instruction if they decide to close or to cancel in-person classes? A growing number are moving classes online as a short-term solution.
A switch to online learning isn't a perfect solution, of course: Many professors have never taught online, and technical support is often lacking. Some critics have raised questions about whether requiring such a switch without adequate faculty involvement would violate faculty governance; others question whether an online-only model would penalize students who may not have access to digital tools or the internet. Still, many institutions are looking to online learning as a way to salvage students' education in the wake of the pandemic. We hope this collection can offer some guidance during these uncertain times.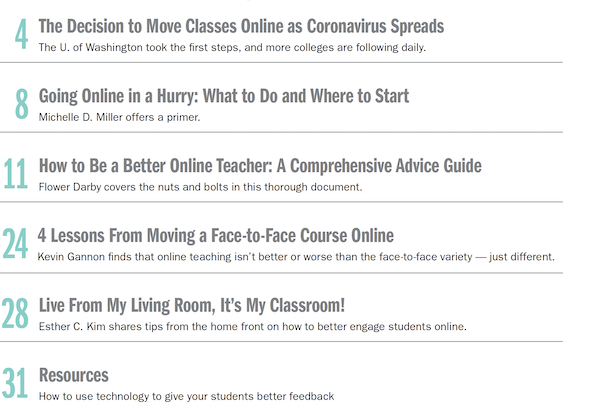 ©2020 by The Chronicle of Higher Education, Inc. Shared with permission. (https://www.chronicle.com)